Our Disciplines
Rationale

Unwarranted consumption of antibiotics in human health care setting and animal agriculture has been a major driver for antibiotic resistance. Lack of appropriate diagnostic technologies and associated services at the community settings has been a major bottleneck.

The aim of DOSA is to develop a user-driven, one health approach to the creation of diagnostics services, to better manage the use of antibiotics in community healthcare, dairy, and aqua culture settings. This work draws on social science, design research and service design to map and reveal every day practices around the use of antibiotics and diagnostics within the three settings and to collaboratively engage local communities in the co-design of diagnostic interventions.

The development and implementation of diagnostics technologies should involve a comprehensive range of potential users so that the resulting diagnostic services are user driven and configured to reflect the specific social and cultural contexts. To achieve this the DOSA project will be applying a combination of research practices to consider all the people affected by the potential diagnostic services. Rather than being technology led, a range of qualitative research methods will be used to inform the development of the functional and service elements of the assays through the definition of Target Product Profiles with the active engagement of the local communities.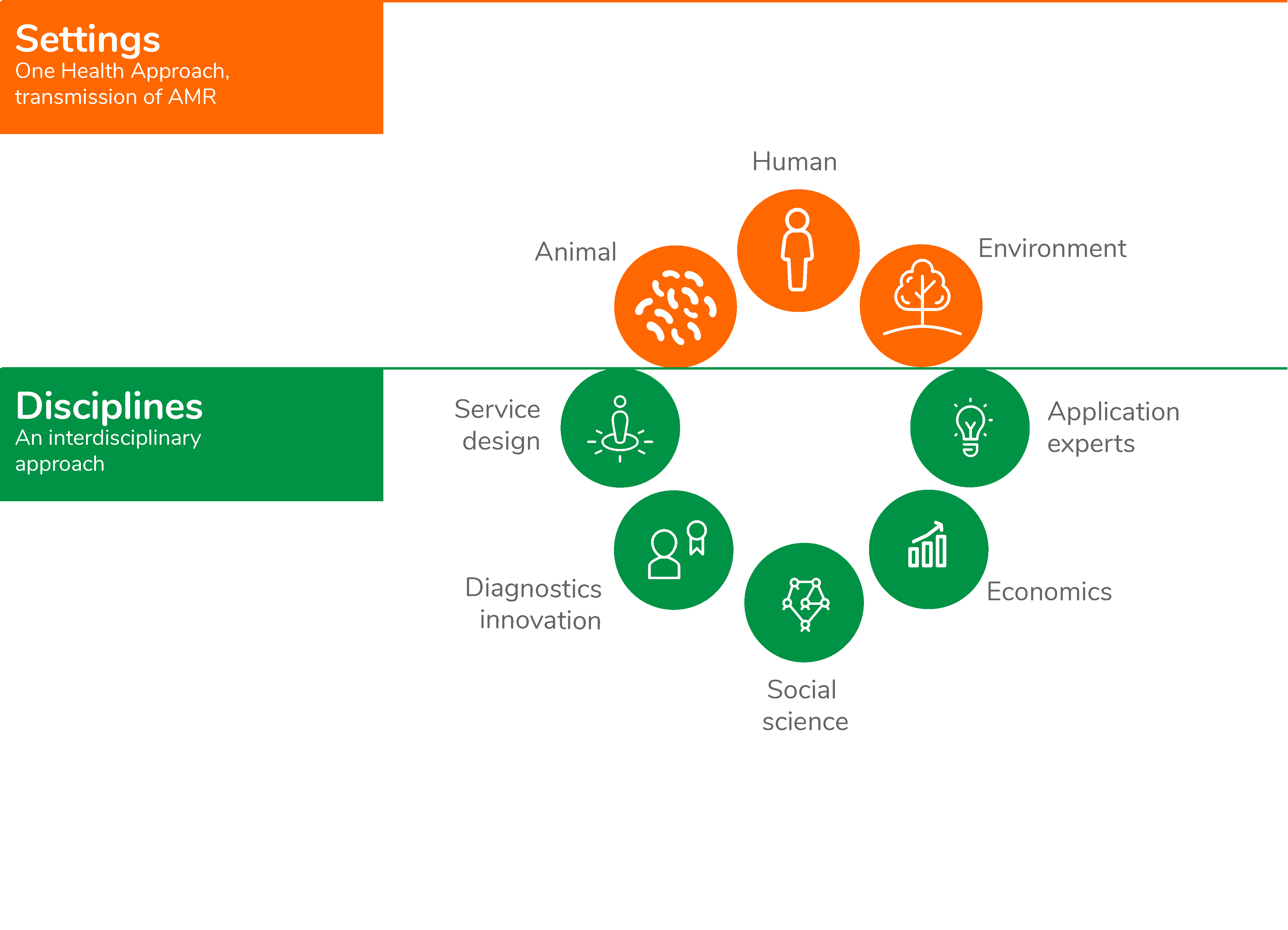 Service Design
Rapid Ethnography Assessment will be used in the first instance to capture daily practices around antibiotic prescribing, use and testing for infections in human, dairy farms and aqua culture. From this initial data collection, more in-depth design ethnography will be undertaken at selected sites to map and engage community members in discussions around their lives as lived and their everyday encounters with antibiotics. Visual tools and probes will be specifically developed to initiate conversations to reflect and map current practices at the three different settings.

In addition, service design methods, framed within the Design Councils (2005) Double Diamond model will take the data collection through iterative stages of co-design and prototyping with users, to conceptualize possible future diagnostic service scenarios that can be tested in the settings specific environments.


Concurrently, economic data will be gathered to further map the cost benefit analysis of diagnostics and antibiotic usage, against the user mapping and future diagnostic service scenarios. This will further inform the user led approach by conceptualizing the economic value of the different diagnostic services to different users.

Diagnostics part 01
Introduction
Diagnostics are tools to empower the user to make informed decisions in their respective setting. To make a diagnostic measurement we have the option to analyse different types of samples such as water, food, urine, etc. With our technologies we have the ability to measure in these samples analytes coming from bacteria, people, animals or the antibiotics themselves. Service design will inform which of the technical solutions should be chosen to address the user need which was determined by the ethnographic studies.
Diagnostics part 02
Baseline Assessment
We will back the diagnostic development and service design work by a simultaneous determination of the current status of AMR in the three selected settings. For this we will collect samples such as urine, milk, or water and determine the identity of the bacteria and their antibiotic resistance in these samples. To do this we will use state of the art technologies such as real time PCR, mass spectrometry, and automated culture. We intend also to conduct next generation sequencing and further analyses. These technologies and data will provide the baseline data as well as benchmark tests for the overall DOSA programme.
© 2019 Dosa Diagnostics. All rights reserved.